Faculty Profile
Who we are
We are part of the Prague University of Economics and Business.
Faculty members of the Economics Faculty develop wide range of fields in economic theory in close co-operation with other domestic and foreign universities.
Faculty academics can and could also be found in prestigious positions of state and advisors on matters of economic policy, in public administration as well as the private sector. To name but a few – Prof. Ing. Robert Holman, CSc., doc. Ing. Pavel Řežábek, Ph.D. and prof. Ing. Kamil Janáček, CSc.
The Faculty of Economics also hosts noted experts on the interface of theory and practice – e.g. prof. Ing. Václav Klaus,CSc., Ing. Dušan Tříska , CSc., prof.Ing. Karel Dyba, CSc., prof. Ing. Vojtěch Krebs, CSc., Ing. Eva Zamrazilová, Ph.D. chairwoman of the National Budget Board and others.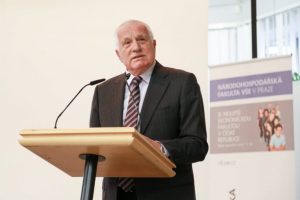 Prof. Ing. Václav Klaus, CSc. is also a member of the Scientific Council of the Faculty of Economics.
What we offer
We offer programmes on the bachelor, master's and doctorate levels.
We furnish our graduates with education in a wide variety of economic disciplines so that they be able to react flexibly to the demands of the labour market and contemporary economic practice.
We offer great opportunities to study abroad.
We offer large range scholarships, essay competitions and internships.
What is our quest
To educate high-quality economic experts with an international outlook.
To offer courses which are modern in form and contemporary in content.
To include an ever-growing participation of foreign professors in our teaching.
To do economic research which achieves more than pro-forma results. .